Brownies&downieS: Making Lunch More Exciting!
If you've ever strolled through the charming streets of the Netherlands, you may have come across a quaint and heartwarming café named Brownies&downieS. Nestled in the heart of Dutch communities, this delightful eatery is not your ordinary café. It's a place where culinary excellence and social responsibility intertwine to create a unique and enriching dining experience. Brownies&downieS is making lunch more exciting, and in this article, we will delve into the heart and soul of this extraordinary establishment.
A Culinary Journey with a Heart
Brownies&downieS is not just a café; it's a social enterprise with a mission. The name itself suggests a combination of sweet and savory, which is symbolic of their diverse menu offerings. However, what truly sets this establishment apart is its commitment to social inclusion. It's not just about serving delicious food; it's about providing opportunities for those who are often overlooked by society.
must read=Brownies&downieS
The Brownies&downieS Concept
The Brownies&downieS concept is quite simple but impactful. They offer a space for individuals with intellectual disabilities, such as Down syndrome, to work and thrive. By doing so, they aim to break down barriers, challenge stereotypes, and promote a more inclusive society. At Brownies&downieS, every staff member has the chance to learn and develop valuable life skills while contributing to the café's overall success.
The Menu: A Culinary Wonderland
Now, let's talk about the real star of the show – the food! Brownies&downieS offers a mouthwatering assortment of dishes, from breakfast to lunch and beyond. Whether you're in the mood for a hearty sandwich, a flavorful salad, or a scrumptious slice of cake, their menu has something to satisfy every palate.
Breakfast: Start your day off right with a variety of breakfast options, including freshly baked pastries, omelets, and Dutch specialties like poffertjes.
Lunch: The lunch menu is a delightful mix of sandwiches, soups, and salads. The ingredients are fresh, and the flavors are simply divine. From classic club sandwiches to creative vegetarian options, there's something for everyone.
Sweets: As the name suggests, Brownies&downieS is known for its delectable brownies. But the sweet treats don't stop there. You can also indulge in cakes, muffins, and cookies that are sure to satisfy your sweet tooth.
Drinks: Pair your meal with a wide selection of hot and cold beverages, including coffee, tea, fresh juices, and soft drinks.
FAQ – Your Burning Questions About Brownies&downieS
Q1: What is the story behind Brownies&downieS?
A1: Brownies&downieS was founded in 2010 in Veghel, Netherlands, by Thijs Swinkels and Teun Horck. The concept was inspired by a desire to create a welcoming environment for people with intellectual disabilities to work and thrive while serving delicious food.
Q2: How does Brownies&downieS support individuals with intellectual disabilities?
A2: Brownies&downieS provides training and employment opportunities to individuals with intellectual disabilities. They gain valuable skills, confidence, and independence while working in the café. This not only benefits the individuals but also promotes social inclusion.
Q3: Is the food at Brownies&downieS of high quality?
A3: Absolutely! The food at Brownies&downieS is renowned for its quality and taste. They use fresh, locally sourced ingredients to create a diverse and delicious menu.
Q4: Are there vegetarian and vegan options on the menu?
A4: Yes, Brownies&downieS offers a range of vegetarian options, including sandwiches and salads. While the menu isn't exclusively vegan, you can find vegan-friendly items, and the staff is often willing to accommodate dietary preferences.
Q5: Where can I find a Brownies&downieS café?
A5: Brownies&downieS has multiple locations across the Netherlands, so you can likely find one in a city near you. Check their website for a list of their locations.
Q6: Can I visit Brownies&downieS for more than just food?
A6: Yes, you can! Many Brownies&downieS locations also offer a range of delicious items for sale, including their famous brownies and other baked goods. You can also visit for a cup of coffee and enjoy the welcoming atmosphere.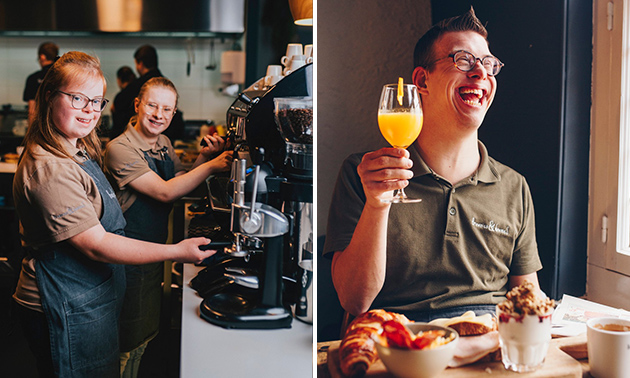 Q7: Can I order food for takeout or delivery?
A7: Some Brownies&downieS locations may offer takeout or delivery services. It's best to check with the specific location to see what options are available.
Conclusion
Brownies&downieS is more than just a café; it's a heartwarming initiative that has taken the dining experience to a whole new level. By offering a diverse and delicious menu while providing meaningful employment opportunities for individuals with intellectual disabilities, Brownies&downieS is making lunch not just a meal but a meaningful social experience. So, the next time you're in the Netherlands, be sure to visit Brownies&downieS, and enjoy a meal that is as heartwarming as it is delicious.